The

clinic
notre vision :
A stimulating medical practice in a multidisciplinary, healthy and pleasant work environment located in the heart of nature.
notre mission :
The Clinique médicale des Collines is a place where the population can receive accessible and quality healthcare services in a healthy and innovative environment, and where the promotion of health and a healthy lifestyle are paramount through the proper use of resources.
nos valeurs :
Values supported by the clinic are collaboration, interdisciplinarity, ethics, competence, integrity, respect and confidentiality.
OUR

PLACES
A clinic that is +social, + ecological and +efficient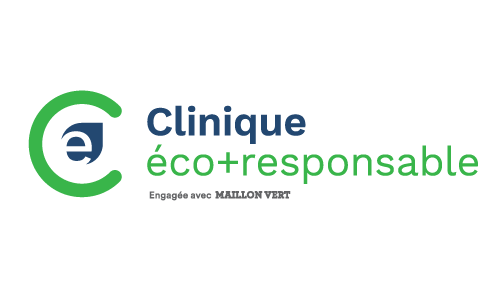 Concerned about the well-being of our patients, our employees and the environment, our clinic demonstrates its commitment these by becoming the first eco-friendly ClinicTM in Quebec.
This approach, accompanied by Maillon Vert, has four key parts: social involvement, responsible procurement, waste reduction and sustainable building.
Learn more during your visit!
OUR

TEAM
Our team is made up of competent and dynamic health professionals who care about your well-being.
Dre Valérie Joannisse
Medical Director
Founder of the Clinique médicale des Collines, Dr. Joannisse is from Sainte-Cécile-de-Masham in Quebec. She completed her training in family medicine at the University of Sherbrooke in 2005, as well as additional training in emergency medicine in 2006. She has worked at the Wakefield Memorial Hospital since 2006, where she held several management roles (head of department of general medicine, member of the Board of Directors, etc.) between 2007 and 2015. Dr. Joannisse is also involved at the community level in support of La Maison des Collines.
Dre Stéphanie Archambault-Léger
Family Doctor
Dr Hassan Ghaddar
Family Doctor
Born in Ottawa, Dr. Hassan Ghaddar graduated from the University of Ottawa in 2016 with a degree in medicine. He completed his family medicine residency at Laval University in Quebec City in 2018; this training was held mainly at the University Institute of Cardiology and Pulmonology of Quebec. He is trilingual (French, English, and Arabic) and has a special interest in swimming and scuba diving. Our team welcomes him in Outaouais!
Dre Carine Diane Kouemo Ngako
Family Doctor
Dr Christian-Charles Woumeni-Siyam
Family Doctor
Heidi Michaud
Nurse Practitioner Candidate in Primary Care
Heidi Michaud is a nursing candidate specializing in primary care who completed her education at the University of Ottawa and has a diverse background. She is committed to providing accessible and appropriate health care for all age groups. An outdoor enthusiast, Heidi works enthusiastically with the clinic's health care team to improve the overall health of patients in the community.
Matthew Scattolon
Nurse Practitioner Specialist in Primary Care
Matthew is from the West Island of Montreal. He completed his Master of Science in Nursing and his Advanced Graduate Diploma in Primary Care at McGill University in 2018. He has been a nurse since 2012 and has worked primarily in the Emergency Department at St. Mary's Hospital Center in Montreal. He has also worked as a palliative care nurse and has experience in northern Nunavik. The Clinique médicale des Collines is proud to count Matthew as part of the team!
Amy Crêtes
Secretary Receptionist
Andrée Lachapelle
Secretary Receptionist
Krista Lachapelle-Thibault
Secretary Receptionist
Krista Lachapelle comes from Kazabazua, a small village in the Outaouais region, from a big family. She is a professional who began her career in the field of health, in addition to being a mom and a student. She is pleased to continue her journey by joining the clinic's team as secretary receptionist.
Lise Bilodeau
Secretary Receptionist
Feeling helpful is a priority for Lise Bilodeau; that's why she works in the health care field, where the needs are so great, for more than 30 years, as medical secretary (hospitals, CLSCs). Lise likes to stay abreast of the news. She enjoys taking care of people and patients, her family and grandchildren. She is pleased to join the Cliniques médicale des Collines team as secretary receptionist.